30 Day Program
The Monk Life Thailand ordination program will provide you with a comprehensive foundation for living the life of a monk and improving your meditation practice in a short but transformative 30 day period.
The training will take place at the International Forest Monastery (or iMonastery for short). This site is being constructed on a beautiful plot of land with the intention of being a true refuge for international men seeking peace and quietude walking the path of Dhamma. The training consists of a five-day preparation for the ordination procedure, the actual ordination ceremony, and more than 3 weeks of practicing meditation, learning Buddhist teachings, and cultivating good habits and discipline by living the life of a monk.
In addition to the main teaching monks from the Monk Life Project, the training team for Monk Life Thailand will also include specialized meditation tutor monks and other skilled staff which will certainly create a very high quality training program for all participants.
CONTINUING MONKHOOD AFTER FIRST 30 DAYS
If you have proven that you can train yourself properly and adjust to our Sangha community well without creating conflict, you will be eligible to continue being a monk after you complete an exit interview with the staff at the end of the program. This exit interview is just to see how you are doing and what your plans are moving forward. With this in mind, the 30-day program is essentially a trial period. You get to see if our community is a good fit for you, and we get to see if you are a good fit for the community.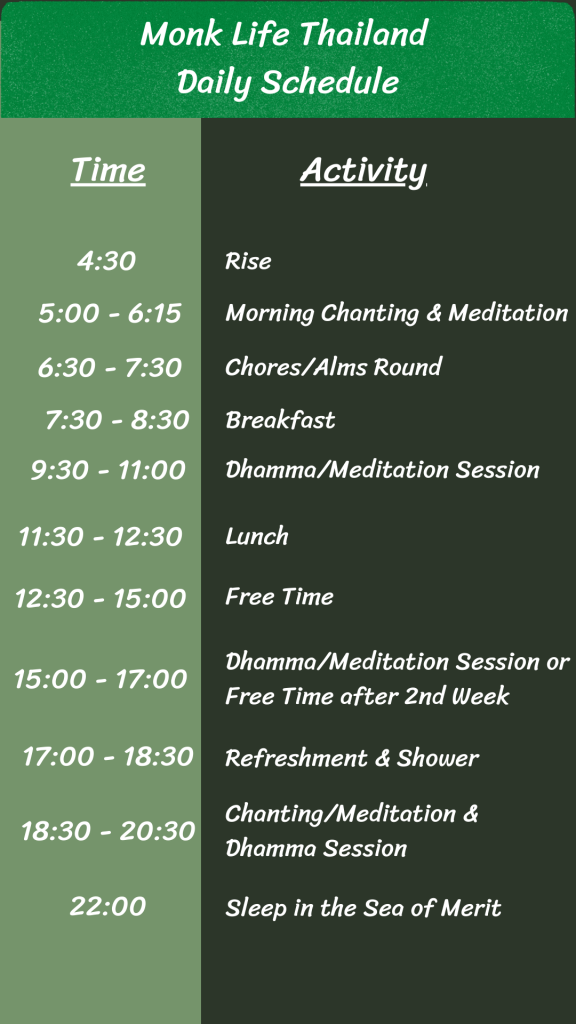 The Second 30 Days or More – Meditation Retreat
After setting a strong foundation for your monk life and meditation practice in the first 30 days of the program, the next 30 days is designed to help you dive deeper into your meditation.
To help you in this process, the team will relocate to another training site about 3 hours away in Hot district (same area where registration and first few days of program will take place) that has already been fully developed and designed with meditation in mind. The pictures below will give you an idea of the comfortable facilities/meditation hall and beautiful scenery that awaits you. The supportive environment, the 30 days you had to adjust and adapt to the monk life and the team of advanced meditation tutors that you will have access to will all contribute to this retreat period being conducive to discovering ever-deepening levels of inner peace.
The international monks who stayed on longer after the 2021 programs (as well as the staff who came for meditation) can attest to the transformative power of this suitable environment. If you decide that you enjoy this environment, the opportunity will be open for you to continue meditating at this retreat alongside your brother monks for up to 3 months or more.
CONTINUING MONKHOOD AFTER SECOND 30 DAYS
The second 30 day meditation program will be a great opportunity for both you and us to see if a life centered around meditation and simplicity is one that is a good fit for you long term. After this second 30 days is over, we will have another exit interview with you and the staff to see your further plans and how we can support your monastic journey into the future.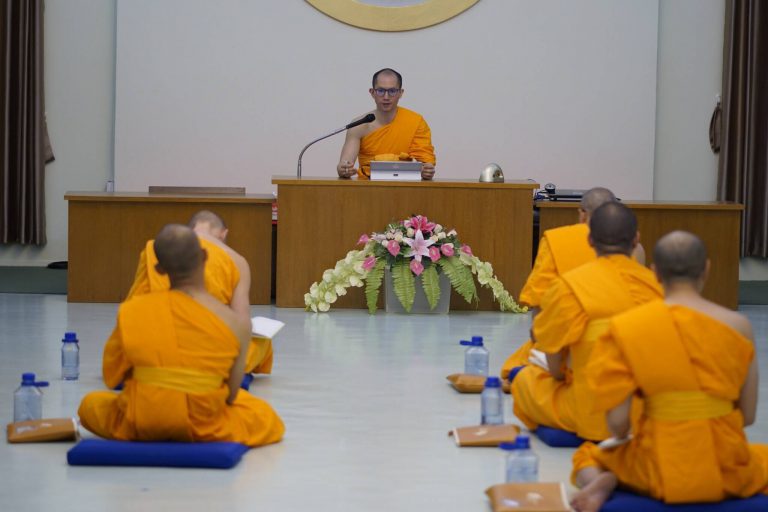 Eligibility/Prerequisites
Due to the nature of the training, all applicants must be: male in good mental and physical health – free from infectious diseases or any physical or mental disability, in good financial standing (able to cover all travel, registration, and other associated costs of program and free from debts or unresolved financial obligations to another person), free from commitments that might cause interruptions during the program, willing to follow all program guidelines and forms of respect and discipline of being a Buddhist monk , and willing to adapt themselves to a community environment.
In order to ensure your safety, the safety of the other participants and our staff, you will be required to visit a hospital to undergo a chest x- ray (for TB), a blood test (for HIV and hepatitis) and urine test (for amphetamines, methamphetamines and opioids)and get a clean bill of health via a general health check-up. You are welcome to do this either in your home country or in Thailand, however, you must coordinate your hospital visit on your own. So for the sake of convenience, many people decide to get these tests done in their home country. If you are accepted into this program, we will send you the form to get your check up done. Also, you will be required to obtain a criminal record report from your home country. Please contact your local police station for details about this process.
In addition to this, the individual must have a visa that is valid throughout the program. Before applying, please make sure that you have fully researched the visa/travel process and are confident that you are willing and able to meet the cost requirements and go through the process of obtaining the appropriate visa and entering Thailand. Thank you for your willingness to devote time and effort into educating yourself before asking questions that you can find through the resources we have provided in our travel and visa info tab.
Costs
Please be aware, that the Monk Life Thailand team will NOT provide any form of financial aid regarding travel costs or any other costs within the program. Before joining this program, you must be in a stable enough financial situation to cover all of the following associated costs independently:
Registration fee: 15,000THB (approximately $460 USD)

Please note that 5,000 THB of this fee must be submitted as a deposit via Pay Pal in order to reserve your spot. This deposit is non-refundable since there will be costs involved with preparing a spot for you. This deposit will count towards your overall registration fee

General Medical Check Up (blood test, chest x-ray, and urine test) : check with local hospital in your home country for pricing
Criminal Record Check(check with local police station in home country for prices)
Travel Costs including but not limited to: Visa, Passport, Plane Tickets(you must have enough for a return ticket as well)
Any other costs incurred outside of the program dates (i.e. medical emergencies)
The registration fee will cover the costs of ordination, food, accommodation, travel expenses, clothes, basic necessities, basic living costs, and various items that you will be able to use during this 30 – 60 day program. The registration fee has increased from the registration fee that IDOP and the Monk Life Project used in previous years for a number of reasons.
First and foremost, the previous fee amount typically was only enough to cover a very small amount of program expenses. Without the generosity of many donors, past ordination programs never could have happened. However, for the sake of sustainability and maintaining a high-quality program, the amount of this new registration fee will allow operations to continue more smoothly into the future as we build a truly supportive community for international monks.
Please note that if you decide to stay on as a monk after the end of the two 30 day programs, most of the costs you will be required to cover moving forward will be related to monk visa applications and extensions. These can range from anywhere from 2,000 to 8,000 baht for extending your visa up to a year. If you wish to remain a monk after a year, then iMonastery will cover your visa extension costs from that point forward.
Registration
What to Submit
Registration Fee : 10,000 Thai Baht in cash

the remaining 5,000 THB will be covered by your deposit

Medical Check Up Results
Criminal Record Check
What to Deposit
To ensure the safety of your belongings and to minimize distractions so that you and those around you can focus and derive the most benefit possible out of the training, we ask that you deposit all of the following items that you have on your person on registration day:
Jewelry or accessories of all sorts(rings, necklaces, bracelets, bands, watches, etc.). These things will not be permissible to wear during the program
Cash, Passport, Wallet, IDs Credit/Debit Cards
All portable electronics including phones, mp3s, tablets, computers, cameras, etc.

In the event of an emergency or serious situation, we can either communicate with someone on your behalf or allow you to use your device momentarily. However, this should be kept to an absolute minimum and avoided entirely if possible. All of the items that you deposit will be kept safely with the staff for the duration of both 30 day programs and longer if you decide to continue your monkhood.
What iMonastery will Provide You With
2 white T-shirts, 1 monk brown bag, 1 warm orange hat, 2 orange socks, 2 orange long sleeves, 1 bathing robe, 1 spoon bag, disposable orange masks, 1 shower basket, 1 chanting book, 1 notebook, 1 blue pen, 1 water bottle, 1 set of spoon-fork-soup spoon, cloth to clean tent and 1 blue box to keep everything in
Personal Items You Must Bring
Personal Sandals

Must be open toed and not covering the heal(monks are not allow to wear shoes with straps around or covering heel). Please bring sandals that are of a single color: either brown or black. Please make sure that your sandals are both durable and broken in. We will likely be walking a long distance in them, so you want to make sure they are supportive of this.
2 pairs of white pants

To be worn for the first few days of program before ordaining. White sweatpants, white canvas/linen pants, or white khakis are ok

Personal Medication
Personal toiletries (razor, soap, toothbrush, etc.)

If you run out of these during the program, MLT can provide you with more. However for the sake of comfort it is best to bring spare razor blades of the kind you like

Warm clothing (during the months of October – March)

Chances are it will be cold during the night/morning time (sometimes less than 10 degrees Celsius) so you may bring your thermal undershirts, long Johns, a scarf, socks, etc. to wear especially while sleeping. Please avoid bringing clothes that are exceedingly vibrant, have patterns, or are black. Warm colors like orange, yellow, darker red, or nude colors like white/tan/brown would be best. During the day, we ask that you wear the warm clothes that we provide if you feel that you need the extra warmth. We do however ask that you wear the orange hat we provide (if at all) and the orange long sleeve shirt that we provided on top of any warm shirts that you bring.

Other Important Misc. Items

1 flash/torch light, 1 wristwatch and 1 alarm clock
PROGRAM GUIDELINES
A Helpful Mindset to Have
It is important to understand that this is a training program in order to become a monk, and so although meditation is a cornerstone of monkhood, this program is more strict and very different in nature from a meditation retreat. The 8 and 227 precepts are rules of higher spiritual discipline that were established by the Buddha to create an internal and external environment that is conducive for those wishing to develop themselves spiritually. So in order to both support your personal practice and uphold the image of the Sangha, it is important that you maintain humility, patience, an openness to feedback, and a willingness to adjust your habits according to the guidelines of the program and the coaching of the staff. In this way, you can contribute to a quality experience for all.
Respect of Religious/Cultural Customs
Oftentimes people have the mentality that Buddhism is not a religion. This may be the case for those who apply Buddhist concepts like a philosophy in order to improve their daily life, but it is not the case for becoming a monk. When you become a monk, you are representing Thai Theravada Buddhism. This comes with a set of religious and cultural customs that you are expected to show respect for and abide by. This includes but is not limited to: properly bowing to Buddha images and more senior monks, holding hands in prayer position during blessings, taking off shoes before entering indoor or sacred spaces, not pointing the bottom of your feet towards sacred objects or other monks, taking good care of your robes and folding/wearing them in appropriate manner, not touching the head or shoulders of another monk, etc.
We as the training staff, will guide you on how to follow these religious and cultural customs. It is your job to adjust yourself according to this guidance. It is not necessary to identify as Buddhist in order to become a monk. You can identify as any other religion; however, you must abide by these outward gestures of respect. Not doing so may result in you being dismissed from the program.
Buddhist Guidelines of Higher Discipline
8 Precepts
Once you enter the program you will be expected to follow the 8 Buddhist Precepts listed below:
Refrain from destroying living creatures.
Refrain from taking that which is not given.
Refrain from all sexual activity.
Refrain from incorrect speech.

Including: untruthful, gossip/divisive, coarse/offensive, and nonsensical speech

Refrain from intoxicating drinks and drugs which lead to carelessness.

Including: cigarettes or vapes

Refrain from eating after midday.
Refrain from wearing garlands, using perfumes, using cosmetics, dancing, singing, listening to or playing music, and all other forms of engaging in entertainment.
Refrain from lying down on a high or luxurious sleeping place.
Precepts 6 & 7 are in bold to bring attention to some habits that many people have before becoming a monk. Please prepare yourself not to engage in these activities (and the other 6 activities outlined in the 8 precepts) for the duration of the program.
227 Precepts
After ordination as a monk, you will be expected to follow the 227 Precepts of Buddhist monkhood. However, you are not expected to memorize these rules. The teachings, the structure of the program, and your mentor and teacher monks will help to support and correct you when you make mistakes as you learn and practice these rules.
These rules will guide you towards conducting yourself in a way that is proper and appropriate for a Buddhist monk. Conduct in accordance with these rules will increase your mindfulness, support your meditation, as well as increasing the faith of the lay people who support monks to live this lifestyle.
Conflict
In order to maintain a quality program, you should try your best to avoid all sorts of conflict, arguments, or debates about contentious topics. Of course, disagreements are natural in a community setting, but it is important to respect differences of opinions, not engage or instigate arguments, and try to resolve any issues that arise in a diplomatic and peaceful way. In the event that such a situation arises, it may be best to include a mentor monk to mediate the issue. It is important to note that we have a zero tolerance policy on physical altercations. If you instigate a fight, then you will be asked to leave the program.
Food
One of the cornerstones of being a monk is living in a way that makes it easy for the lay people to support us. One such way in which we do this is by not being choosy in the food that we are offered. This is very central to the discipline of Theravada Buddhist monks. With that being said, a portion of the food that we eat every day will come from the villagers who make offerings during our morning alms around walk. The majority of the food that they, and most Thai people, make contains meat and other ingredients that lie outside of a vegan diet. In addition to this, if you decide to stay on as a monk longer-term, there will be certain situations in which you were offered food outside of the training site. In these occasions, it is important to be able to adapt and show gratitude for what is offered by the faithful lay people.
With that being said, we do try our best to have fresh salad, fruit, porridge and other dishes that do not contain meat. However, it is not always guaranteed to have an abundance of options for those who have vegetarian or vegan dietary preferences. There have been vegetarian and vegan's in the past who have been able to adjust themselves to this reality, so it is certainly doable. We would just like to make you aware of this reality and the importance of eating what is offered as a monk in Thailand in case you happen to have vegetarian, vegan or other dietary restrictions.
Travel Policy for First 5 Years of Monkhood
According to the Vinaya set by the Buddha, men are considered "new monks" for the first 5 years of their monastic journey and must undergo training under the supervision of their senior monks during this period. iMonastery's policy states that during this 5 year period, new monks are not able to travel and stay outside of the training site without express permission and support from the staff. If there is an emergency that requires you to travel in such a way, it will be necessary to coordinate with the staff and see if there is a potential solution where you are chaperoned by an approved attendant and have the proper accommodations and associated support during your trip as deemed appropriate by the staff. We will do our best to find a suitable option for you, however, in the event that we cannot find a good solution, as a last resort, it may be necessary for you to temporarily disrobe to take care of the issue in question before coming back to ordain again.